FightAcne.com: How does Clascoterone Cream differ from other medication groups for acne?
Response: Clascoterone cream is unique because it is a topical androgen receptor inhibitor and the first mechanism of action introduced to treat acne in nearly 40 years. In vitro studies suggest clascoterone competes with dihydrotestosterone (DHT) for binding to androgen receptors which are found throughout the skin. By competing with DHT, clascoterone appears to inhibit downstream signaling of androgen dependent acnegenic pathways including sebum production and inflammation.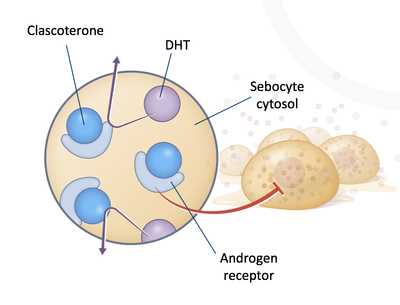 FightAcne.com: What are the main findings?
Response: There were over 700 subjects in each treatment group. Subjects treated with clascoterone cream had significantly higher success rates than those receiving vehicle cream with success defined as an Investigator's Global Assessment (IGA) score of 0 (clear) or 1 (almost clear) and a two grade reduction and an absolute reduction in non-inflammatory and inflammatory lesion counts.
FightAcne.com: What should readers take away from your report?
Response: Clascoterone topical cream 1%, if FDA approved, would be the first topical androgen receptor inhibitor available to treat acne in both males and females. These studies support clascoterone's favorable efficacy and safety profile for the treatment of acne.
It would be important to understand how clascoterone cream 1% could be used in combination with other topical acne treatments like antibiotics and retinoids, to optimize acne treatment.
FightAcne.com: Is there anything else you would like to add? Any disclosures?
Response: Acne is a prevalent disease that is largely androgen-driven and it can have profound effects on self-esteem and quality of life. Clascoterone could offer another tool in the treatment armamentarium and address more than one aspect of acne pathogenesis.
Disclosures: Drs. Hebert, Thiboutot and Stein-Gold were study investigators and co-authors; Dr. Cartwright is the Senior Director of medical affairs at Cassiopea Inc. USA and Mr. Fragasso is the Lead Clinical Project Manager and Dr. Mazzetti is the Chief Medical Officer of Cassopea SpA. The study was funded by Cassiopea SpA.
Citation:
Hebert A, Thiboutot D, Stein Gold L, et al. Efficacy and Safety of Topical Clascoterone Cream, 1%, for Treatment in Patients With Facial Acne: Two Phase 3 Randomized Clinical Trials [published online ahead of print, 2020 Apr 22]. JAMA Dermatol. 2020;10.1001/jamadermatol.2020.0465. doi:10.1001/jamadermatol.2020.0465:
[last-modified]
The information on FightAcne.com is provided for educational purposes only, and is in no way intended to diagnose, cure, or treat any medical or other condition or to endorse any product. Always seek the advice of your physician or other qualified health and ask your doctor any questions you may have regarding a medical condition. In addition to all other limitations and disclaimers in this agreement, service provider and its third party providers disclaim any liability or loss in connection with the content provided on this website.